Air Ambulance Services in Solapur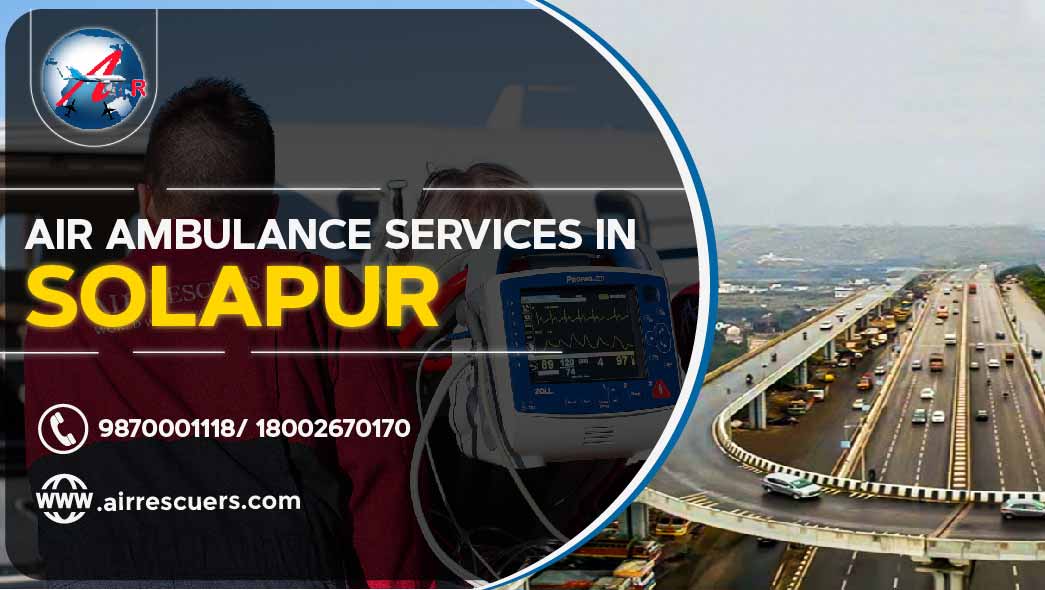 Air Ambulance Services In Solapur – Air Rescuers
Air Rescuers are the best air ambulance service provider in Solapur City moving patients from one city to another with full care and protection. We make full arrangements in our Air Ambulance which takes care of every patient. We have all the equipment which can take care of every patient. Earlier to catch an Air Ambulance in Solapur was difficult, once air rescuers have started providing it has become reliable to book an air ambulance in Solapur.
Need of Air Ambulance
Solapur, like many other cities in India, faces the challenge of providing rapid medical assistance in remote areas or during traffic-congested hours. Traditional ground ambulances may struggle to navigate through such conditions quickly. In situations where patients require specialized care, especially in critical cases, air ambulance services become indispensable.
Air Rescuers is a reputable company that provides air ambulance services in Solapur. We offer life-saving services in Solapur in life-threatening conditions. We provide service in a limited time period. These are the following reasons to choose Air Rescuers:-
1. Speedy Response: Air Rescuers are equipped with helicopters and aircraft that can swiftly reach even the most remote areas of Solapur.
2. Medical Expertise: Beyond transportation, Air Rescuers provide a high level of medical care during transit.
3. State-of-the-Art Equipment: The aircraft used by Air Rescuers are equipped with advanced medical equipment, ensuring that patients receive the best care possible while in transit.
4. Versatility: Whether it's a trauma case, a medical evacuation, or an organ transplant, Air Rescuers have the expertise and infrastructure to handle various types of medical emergencies.
5.24/7 Availability: Medical emergencies don't adhere to a schedule, and neither do Air Rescuers. Our services are available 24/7, ensuring that help is just a call away, day or night.
Frequently Asked Questions
Q1: Should patients bring their medical records on board?
A1: Yes, Patients should bring their medical records on board so that we can acknowledge the condition of the patient.
Q2: Can you pick up patients from remote or inaccessible locations?
A2: Yes, We provide a pickup facility to patients who stay in remote locations.
Contact us for more details 24*7 we are here to help you call now:+91 9870001118