Air Ambulance Services in Himachal Pradesh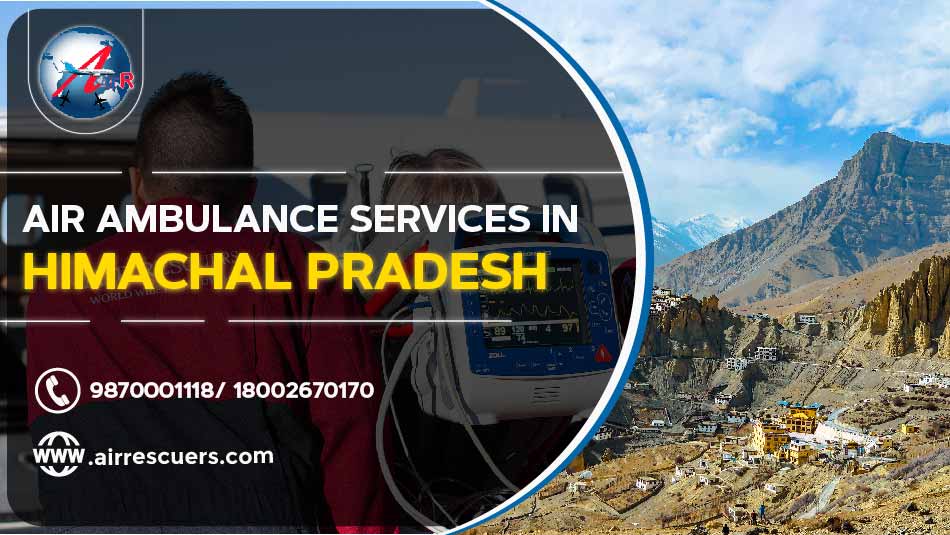 Air Ambulance Services In Himachal Pradesh – Air Rescuers
In Himachal Pradesh, air ambulances play an important role in saving lives. Air ambulances are the only reason why a number of patients get their lives back. In hilly regions, it becomes very hard to shift one person from villages to hospitals with all the facilities, as they are situated in urban areas. The connectivity of rural areas to urban areas is very poor due to roads and traffic. And sometimes these road networks get hindered due to landslides. In such a situation, air ambulances become the lifeline of Himachal Pradesh.
It's very difficult to choose the right air ambulance. No worries; Air Rescuers, India's top air ambulance service, is now providing air ambulance service in Himachal Pradesh.
Air Rescuers, Understand Your Situation
Air rescuers take responsibility and safely transfer patients. Our goal is to ensure that the patient reaches its destination safely. We are not only experienced but also budget-friendly service providers in Himachal Pradesh. If any patient in Himachal Pradesh wants to be shifted to Delhi or America, the Air Rescuers Air Ambulance is there. We provide both domestic and international air ambulance services. In the Air Rescuers Air Ambulance, there is medical equipment and an intensive care unit.
Here is the list of equipment available in the Air Rescuers Air Ambulance:
A ventilator for the patient who needs machine support
An oxygen cylinder for the patient who is struggling to breathe
Suction Device
A stretcher bed for patients who are not able to walk
Pacemaker
Nebulizer Machine
Defibrillator
Beta-Blockers
Cardiac Monitor
Syringe Infusion Pump
Blood transfusion equipment
 Cost is the most important factor. In public, there is a misconception about the cost of air ambulances. Air rescuers break this stigma of price, Air Rescuers offers a pocket-friendly service, Air Rescuers Air Ambulance offers the best facility at an affordable price.
Why is Air Rescuers the top air ambulance service provider in Himachal Pradesh?
The Air Rescuers team is available 24/7 for its customers.
The top air ambulance service provider in Himachal Pradesh, Air Rescuers, provides a quick response to their customers.
They provide rapid medical facility transport.
Customers can make their booking in advance or on short notice.
They provide a safe and comfortable environment for patients and their families.
They pick up the patients from home and deliver them safely to their destination.
They provide the best medical care.
The Air Rescuers Air Ambulance has well-trained doctors and nurses.
The Air Rescuers Air Ambulance Service is pocket-friendly.
State-of-the-art medical equipment is used by this top air ambulance service provider in Himachal Pradesh.
Domestic and international facilities are provided by them.
Air Rescuers' patients will receive pre-hospital care and treatment.
If there is a sudden illness, an emergency, or an accident, air rescuers are available for their customers and give them attention as soon as possible.
Frequently Asked Questions
Q1: Do I need to arrange any documentation for air ambulance transportation?
A1: Air Rescuers will assist you with the necessary documentation and permits required for air ambulance transportation, making the process as smooth as possible.
 Q2: How can I get a cost estimate for air ambulance services in Himachal Pradesh?
A3: You can request a cost estimate by contacting Air Rescuers directly. They will assess your specific requirements and provide you with a detailed quote for their services.
Q3: In case we need to carry patients abroad, did air rescuers provide international air ambulance service?
Whether in the domestic region or internationally, Air Rescuers provides the service of an air ambulance for both.
 Q4: Did air ambulance service be budget-friendly?
A8: Air ambulances are costlier than road ambulances or rail ambulances. But air rescuers provide air ambulance service, which is pocket-friendly.
You May also like :
Contact to for more details 24*7 we help you call now:+91 9870001118