Air Ambulance Services in Amritsar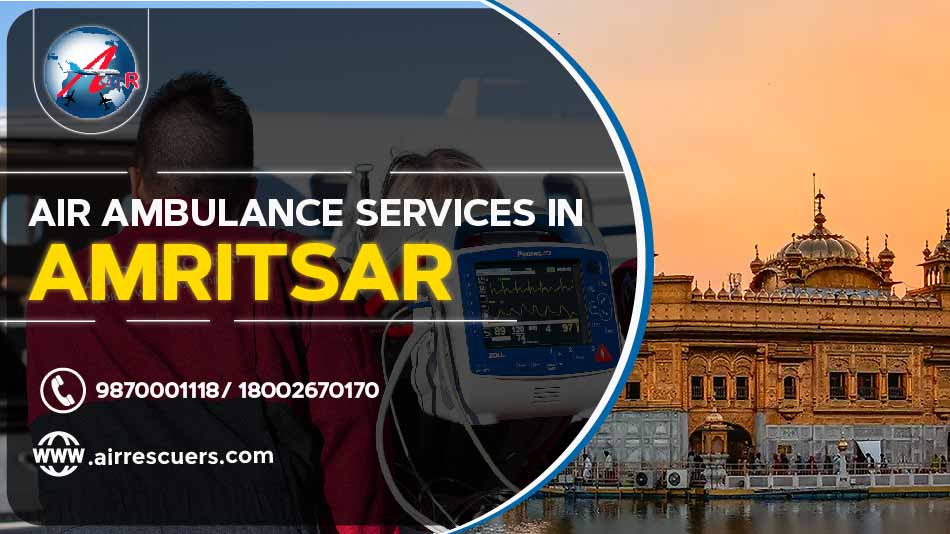 Air Ambulance Services In Amritsar – Air Rescuers
Quick and efficient medical transportation services are offered by air rescuers in Amritsar. Highly skilled medical experts, including physicians, nurses, and paramedics, work in our air ambulances. They can provide vital care even while traveling because they are outfitted with state-of-the-art medical technology and apparatus. It takes this level of specialist treatment to save the lives of individuals who are in critical condition.
Why do we need air ambulance services in Amritsar?
Amritsar is situated in Punjab, which has a number of isolated and rural areas where access to healthcare services, particularly those giving specialist care, may be restricted. In order to close the gap, air ambulance services in Amritsar can quickly transport patients from rural locations to urban hospitals with cutting-edge medical equipment.
The ideal option for you to choose is Air Rescuers if you need emergency medical transportation services at any time or from any area. Our goal is to provide high-quality air ambulance services in all of India's cities.
Do air ambulances have cutting-edge medical technology on board?
Yes, modern medical technology is available in air ambulances, including heart monitors, ventilators, IV pumps, and other life-sustaining tools to guarantee that patients receive the proper care while in flight. Depending on the air ambulance's type (helicopter or fixed-wing aircraft) and the patient's level of care, the particular tools and medical technology on board may change.
Do air ambulance services operate 24/7?
Since everyone is aware that medical emergencies can occur at any time, air rescuers offer 24/7 medical transportation services. To provide pre-hospital care and treatment before the patient arrives at the desired hospital, we have highly qualified doctors and paramedical professionals on hand.
How can I get in touch with Air Rescuers?
Air ambulance services from Air Rescuers can be scheduled quickly and easily. Simply give us a call from anywhere at any time. Our friendly staff will promptly provide you with all the information you want, including instructions.
When you require medical transportation services in Amritsar, you can just contact us.
You May also like :
Contact to for more details 24*7 we help you call now:+91 9870001118