Air Ambulance Services in Thrissur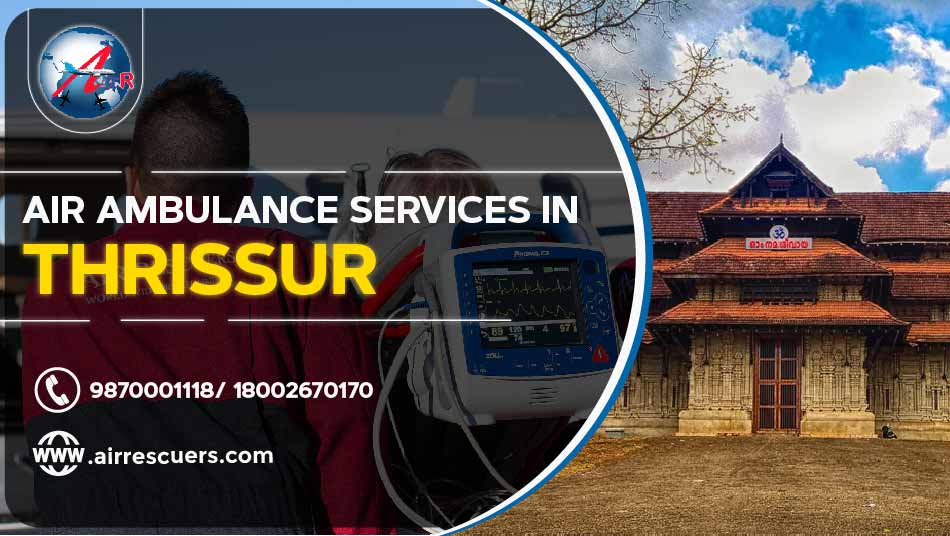 Air Ambulance Services In Thrissur – Air Rescuers
Air rescuers in Thrissur provide quick and effective medical transportation services. Our air ambulances are staffed by highly trained medical professionals, including doctors, nurses, and paramedics. Given that they are equipped with cutting-edge medical technology and equipment, they can provide necessary care even while traveling. To save the lives of patients who are in critical condition, this level of specialized care is required.
Benefits of Choosing Air Rescuers Air Ambulance Services
Simple to access in outlying or difficult-to-reach areas.
It is available at all times.
Having more than 24 years of experience has allowed us the ability to comprehend patients' urgent situations.
We provide both pre-hospital and emergency medical care during medical evacuation.
It covers a substantially larger area in a shorter period of time.
Our top goal is to make sure a patient is safe.
You can schedule an air ambulance service at any time
It has necessary emergency medical supplies like ventilators, oxygen cylinders, Cardiac monitors, and other emergency medications.
Frequently Asked Questions
Q1: Do air ambulance services operate 24/7?
A1: Air Rescuers offers 24/7 medical transportation facilities in order to offer round-the-clock emergency medical services.
Q2: Do air ambulances have cutting-edge medical technology on board?
A2: Yes, modern medical technology is available in air ambulances, including heart monitors, ventilators, IV pumps, and other life-sustaining tools to guarantee that patients receive the proper care while in flight.
Q3: How can I get in touch with Air Rescuers?
A3: It's easy and hassle-free to arrange air rescuers' Medical Transportation Service in Thrissur. Just give us a call whenever you want, from wherever. All the information you need, including instructions, will be swiftly given to you by our helpful personnel.
Contact us for more details 24*7 we are here to help you call now:+91 9870001118