Air Ambulance Services in Assam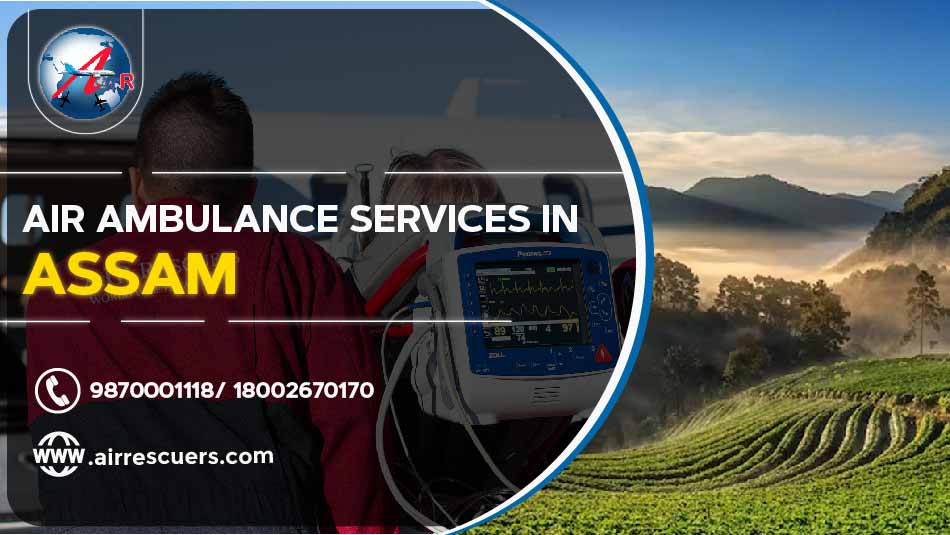 Air Ambulance Services In Assam – Air Rescuers
Air Rescuers, a top world-class emergency patient transportation provider in India, is offering the best air ambulance services in Assam for the patients who are in need of immediate or emergency medical care in Assam city and nearby. our air ambulance service is a comprehensive patient transfer solution, backed by a team of experienced doctors, flying medics, and paramedic technicians. We offer domestic medical air ambulance services that are fully equipped with the most advanced emergency medical equipment and technology
The Air Rescuers Air Emergency Services are offering advanced low cost air ambulance services in Assam for the emergency evacuation and patient transfer services with charter aircraft air ambulance from Assam to any city of India like Delhi, Chennai, Mumbai, Kolkata, Agra, Lucknow at an affordable price.
Train Ambulance Services in Assam
Air Rescuers Team is a provider of both Air Ambulance Services. Despite the fact that city is home to numerous train ambulance providers, Air Rescuers always charge less because they are aware of consumers' budgets.The patient will travel in a very stress-free atmosphere with all of the facilities of rail travel offered because of the nature of railway travel.
The medical escort helps with all aspects of care, including mobility, meals, hygiene, and medicine. Our Patient Transport Specialists take care of all the plans and technicalities.
We offer affordable emergency equipment packages with cutting-edge technology. We assist with patient transfers from Assam to different hospitals. Due to this, if you require it, you can have a good experience by using Air Rescuers Team's prompt and affordable rail ambulance services in Assam! When time is not a major factor and the patient needs to be lying down due to their condition, medical escort via rail is a cost-effective and reliable choice.
Most affordable Air And Train Ambulance services in Assam
You can obtain some cutting-edge amenities from here if you reserve an Air or Train Ambulance in the city. the greatest.
1. Scoop stretcher bed with all the patient's medical amenities.
2. Cost-effective booking rate with no additional fees.
3. Modern, high-tech ICU setup for patients and attentive medical staff
4. MBBS and MD team of doctors to monitor patients' health state
5. We offer a simple call booking service with dependable, accountable, and transparent services thanks to all this help.
Air Ambulance in Assam plays a significant part in the field of services due to its experience carrying critically ill patients by Air Rescuers with Low cost Air And Train Ambulance in Assam and our skilled and knowledgeable medical staff takes care of patients like they are members of our family.
The total cost of the trip includes the cost of the flight, onboard medical attention, and crew assistance. Once you confirm the reservation, the process gets started. We plan everything, from medical discharge to boarding the flight and until exit, and we even take care of the exit clearance when the aircraft lands. The open time slots are booked.
You won't have to worry about the cost because we fly several types of aircraft. As a result of realizing how important our clients' time is in this situation, we own our aircraft and are able to do this complete operation without any hiccups. The low-cost air and train ambulance services are available in Assam.
Choosing Air Rescuers, WHY?
The Air Rescuers will offer all pre-medical emergency critical care.
India has a good network overall. We have a strong network not just in India but even abroad.
Services for medical evacuation are available around-the-clock.
As soon as you get in touch with us, our support team will give you advice. From
suggesting services based on your needs to helping you leave, Air Rescuers is there for you.
ICU Setup with New Technology and Good Authorization
Assam's Most Economical Train and Air Ambulance Services.
Beds, wheelchairs, and stretchers and all other required equipments avai;lable.
We handle all security clearance requirements and discharge paperwork.
Features
CU-CCU Certified Registered Flight F
ER Flight Nurses
Advanced Life Support Critical Care Flight Paramedics
Flight RNs & Paramedics
Flight Respiratory Therapists
Anesthesiologists
Isolation pods
ECMO, We also provide extracorporeal membrane oxygenation, blood is pumped
outside of your body to a heart-lung machine that removes carbon dioxide and sends
oxygen-filled blood back to tissues in the body
Ventilator
Defibrillator
ICU
Pacemakers,Oxygen Cylinder & more that enable our experienced doctor to save lives onboard.
PROCESS
The support team begins by stating the prices for your Air Ambulance Service, which includes personnel charges, medical charges, and flight charges. [Flight Charges Vary Based on Time Value]
Work begins as soon as you confirm; required equipment, doctors, and an assisting crew from Air Rescuers will be there.
We reserve a place based on our availability, and we handle all paperwork and security clearances.
When our flights land, Air Rescuers handle exit clearances.
Contact us for more details 24*7 we are here to help you call now:+91 9870001118