Air Ambulance Services in Thiruvananthapuram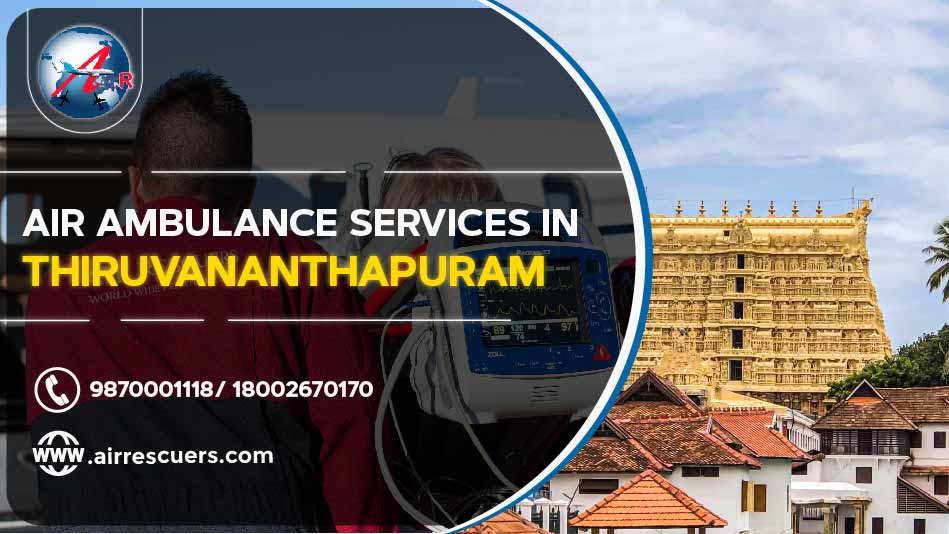 Air Ambulance Services In Thiruvananthapuram – Air Rescuers
Air Ambulance Service in Thiruvananthapuram is offered by Air Rescuers Worldwide Pvt Ltd, guaranteeing the swift and secure transfer of patients. Our presence in Thiruvananthapuram allows us to provide cutting-edge healthcare services to those in medical need. Equipped with state-of-the-art technology, our comprehensive services include ICU facilities, specialist MD doctors, medical personnel, paramedics, and dispatchers, all at a cost-effective rate.
As a reliable Air Ambulance provider headquartered in Mumbai, we connect Thiruvananthapuram residents with top-notch hospitals in tier-two and tier-three cities through an extensive network. Place your trust in Air Rescuers for all medical emergencies, as we boast a vast transportation network across India. Whether you need an Air Ambulance transfer from Thiruvananthapuram to Mumbai, Chennai, Delhi, Kolkata, or any other location, we've got you covered.
Our Cost-Effective Air Ambulance Services in Thiruvananthapuram handle all discharge formalities, ensuring a seamless transition from one city's hospital to another via Air Ambulance. From managing security checks to exit clearance, we take care of it all.
At Air Rescuers, we offer Affordable Ambulance Service in Thiruvananthapuram without compromising on quality. Our services are budget-friendly, allowing you to save on medical flight costs while ensuring patient care.
For patients in urgent need of air ambulance service, our quoted prices are competitive, guaranteeing a Low-Cost Air Ambulance in Thiruvananthapuram. In case you find a lower price for the same aircraft type and location, we will strive to match it.
We provide a range of reliable aircraft options equipped with medical facilities, ensuring cost savings for our clients. Additionally, our aircraft often return unoccupied after patient drop-off, providing you with flexibility in scheduling and saving on Air Ambulance Costs.
How it works with Air Rescuers:
Contact us, and our support staff will provide a fee structure based on your specific requirements.
Once you confirm your booking, we will manage slot reservations, hospital discharge to boarding flight, and exit clearance.
With multiple aircraft in operation, we ensure efficiency and timely service.
We understand the critical importance of time, which is why we own our aircraft to minimize any potential delays.
The Benefits of Choosing Air Rescuer
– Exceptional medical emergency critical care is provided.
– Wide network coverage both in India and internationally.
– 24/7 availability of medical evacuation services.
– A dedicated support team that offers guidance from recommending services to obtaining exit clearance.
– Well-authorized and advanced ICU arrangements.
– Affordable and convenient booking for Low-Cost medical transportation services in Thiruvananthapuram.
– Amenities such as stretchers, beds, and wheelchairs.
– Comprehensive handling of discharge formalities and security clearance.
– Prompt arrangement of required medical professionals and staff.
– Highly skilled and experienced medical personnel.
– Assistance with evacuation while onboard.
– Efficient management of patient transfers by Air Rescuers.
– Aircraft options include B200, C90, and Commercial Airline.
Additional Notable Features:
Round-the-clock customer/client service to address emergencies.
Specially designed flights equipped with onboard doctors for critical cases.
Air Ambulance service that facilitates bed-to-bed transfers, utilizing our extensive road ambulance network.
Our 1 Bed Critical Care air ambulance is operated by a proficient crew utilizing state-of-the-art technologies.
Paramedical staff members with extensive experience in emergency air transport and management.
Rapid response time, with quick deployment often within 15 minutes.
Capacity to accommodate up to 4 individuals, including 1 family member.
Thiruvananthapuram, which is also referred to as Trivandrum, now has access to one of the most reputable and cost-efficient Air Ambulance services for swift patient transportation within India and abroad. The pricing of Air Ambulance services may be subject to variation based on urgency, peak hours, and weather conditions.
Frequently Asked Questions
Q1: What are Air Rescuers Air Ambulance Services in Thiruvananthapuram?
A1: Air Rescuers Air Ambulance Services in Thiruvananthapuram is a professional medical transportation service that provides air ambulance services for critical patients, offering rapid and safe medical evacuation. Its head office is located in Mumbai.
Q2: What types of medical services are available during air ambulance transportation?
A2: Air Rescuers offers a wide range of medical services during air ambulance transportation, including intensive care, cardiac monitoring, ventilator support, and medical personnel assistance.
Q3: How can I request an air ambulance service in Thiruvananthapuram?
A3: You can request an air ambulance service from Air Rescuers by contacting their 24/7 customer support hotline. https://www.airrescuers.com/contact-us/ Open the following link and add your information you will be provided with contact details.
Q4: Are the medical personnel on board qualified and experienced?
A4: Yes, Air Rescuers ensures that their medical personnel are highly qualified and experienced, including
ICU-CCU Certified Registered
Flight Nurses
ER Flight Nurses
Advanced Life Support Critical Care Flight Paramedics
Flight RNs & Paramedics
Flight Respiratory Therapists
Anesthesiologists
Q5: Is air ambulance transportation covered by insurance?
A5: It depends on your insurance policy. Some insurance plans may cover air ambulance services. It's recommended to check with your insurance provider for specific details.
Contact us for more details 24*7 we are here to help you call now:+91 9870001118