Air Ambulance Services in Kutch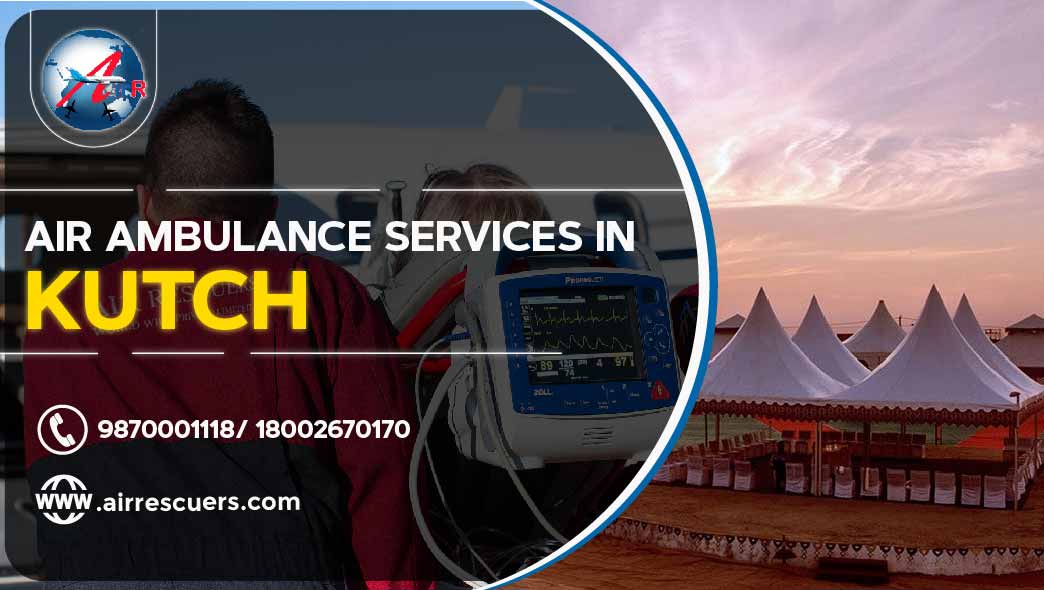 Air Ambulance Service In Kutch – Air Rescuers
Are you searching for Kutch's top air ambulance service provider? In this course, you shouldn't feel lost. By getting in touch with Air Rescuers, you will have the best chance of taking care of your air ambulance needs in Kutch. Air rescuers' superior services and responsible crew members will guarantee a first-rate air ambulance service for the patient in need of transportation.
Rural communities, desert landscapes, and other inaccessible distant locations can be found throughout the large district of Kutch. Road travel to these places during an emergency might be difficult and time-consuming. Patients can be rapidly accessed and transported from these outlying places to medical facilities by air ambulances.
Why are air ambulance services required in medical emergencies?
Air ambulances can drastically save travel time to the closest medical institution in times of serious medical emergencies, particularly those requiring quick medical attention such as heart attacks, strokes, or severe injuries. Advanced medical technology and qualified medical personnel, such as doctors, nurses, and paramedics, are both present in air ambulances. They can offer critical care and life-saving interventions while in transit.
What is the cost of air ambulance services?
In Kutch, as in any other place, the price of air ambulance services might vary significantly based on a number of criteria. To get an accurate cost estimate for air ambulance services in Kutch, you can directly contact our air rescuers team at any time. We offer the most affordable and reliable medical transportation facilities with intensive medical care and treatment.
What distinguishes air rescuers as the top choice for air ambulance services?
For patients with severe injuries, we have been offering the best and most efficient air ambulance services in India. We are providing all required medical equipment, both emergency and non-emergency, throughout the medical evacuation. Throughout the entire procedure, patients will receive rapid medical attention and treatment from our highly qualified and trained staff. You can reach out to us immediately at any time if you need prompt and efficient air ambulance services in Kutch.
Frequently Asked Questions
Q1: How can I make an air ambulance request?
A1: Air ambulance services from Air Rescuers can be scheduled quickly and easily. Simply give us a call from anywhere at any time. Our friendly staff will promptly provide you with all the information you want, including instructions.
Q2: What types of aircraft are used for air ambulance services?
A2: Fixed-wing aircraft and helicopters may be used as air ambulances. The decision is influenced by elements like distance, geography, and medical considerations.
Contact us for more details 24*7 we are here to help you call now:+91 9870001118