Air Ambulance Services in Tripura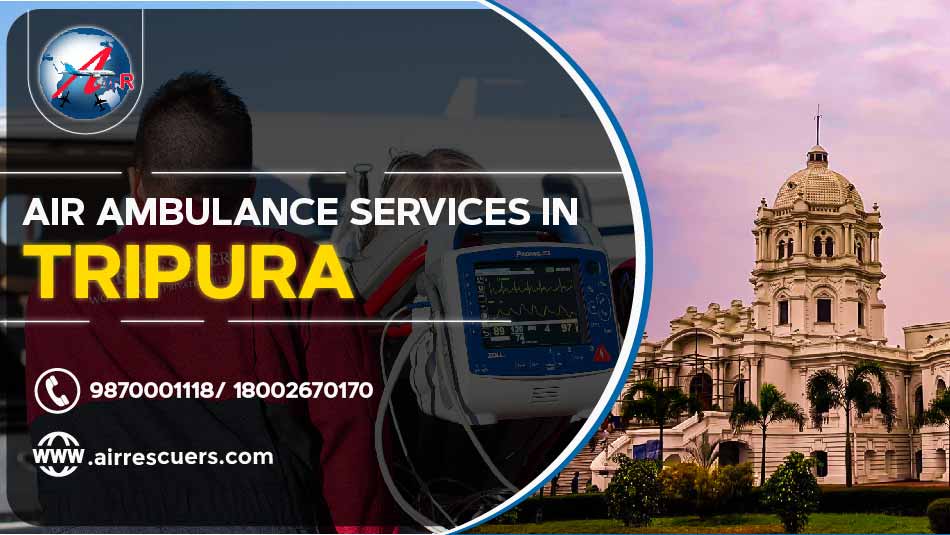 Air Ambulance Services In Tripura – Air Rescuers
One of the most beautiful cities situated in northeast India is Tripura, whose capital is Agartala. Tripura is one of the states closest to Bangladesh. In all the states situated in North India, there is one basic problem: transportation. Due to hills, narrow roads, dense forests, and frequently changing weather, all the states in northeast India, including Tripura, face transportation problems when it comes to medical emergencies. In such critical conditions, when there is any medical emergency or accident, an air ambulance is the only option. Rail ambulances are not suitable in Tripura due to the lack of connectivity in the train network in northeast India. Road ambulances are also not suitable because of the narrow roads. In any emergency situation when patients need to be transferred to a new city, whether it be Kolkata, Mumbai, or Delhi, an air ambulance is the best option.
 Air Rescuers, the top air ambulance service provider in India, is now in Tripura. The head office of Air Rescuers is situated in Mumbai, Maharashtra, but they provide services all over India. So just give them a call, and they will be available at your doorstep.
Frequently Asked Questions
Q1: What is the cost of air ambulance service in India?
A:. Although many air ambulance service providers try to offer expensive service, Air Rescuers, the best air ambulance service provider in India, offers budget-friendly service. Contact them to learn about the cost, as it differs from location to location.
 Q2: Can COVID-19 or coronavirus patients be transferred using an air ambulance?
A:. No, it's not allowed by the government of India to transfer Corona patients by air ambulance.
 Q3: What is the equipment present in the Air Rescuers Air Ambulance?
A4: Suction Machine
Syringe pump

Laryngoscope

Bp Instrument

Pulse Oximeter

Ambu Bag

Emergency drugs

Bipap machine

Defibrillator

Ventilator

Multipara monitor
 Q4: How can I book a train ambulance in Tripura?
A4: Air Rescuers also offer train ambulances in Tripura and all over India. If you want to book a train ambulance, then contact the 24/7 helpline number of air rescuers available at your service. Just give them a call; they will answer you and advise you on how to book your train ambulance.
 Q5: How do I contact air rescuers?
A5: Visit their official site, collect the details from there, and contact them.
Contact us for more details 24*7 we are here to help you call now:+91 9870001118