Air Ambulance Services in Gopalganj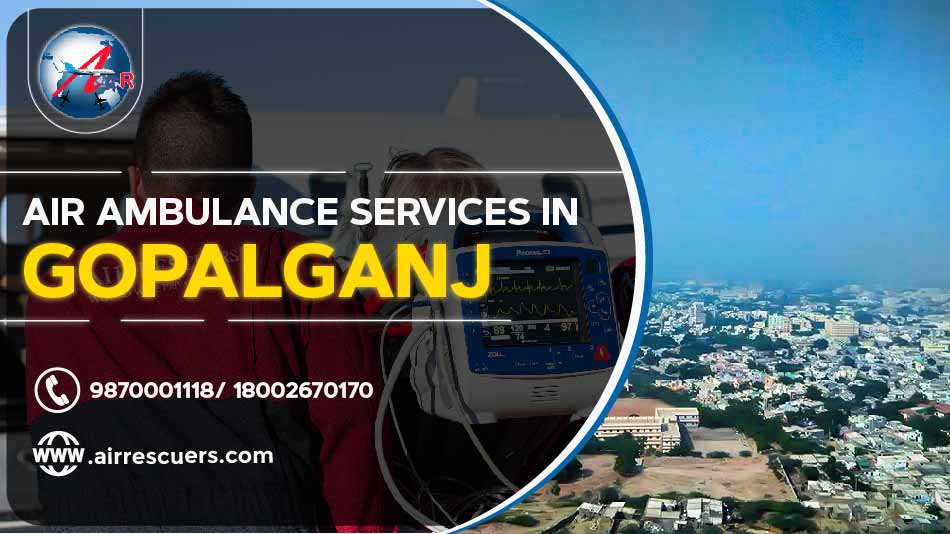 Air Ambulance Services In Gopalganj – Air Rescuers
Air Rescuers offers the most effective and reliable air ambulance services in Gopalganj at a fair price with all-inclusive care and treatment. During a medical evacuation, patients can receive assistance from doctors with extensive training and knowledge. To provide the patient with the required medical services, our staff is always on hand.
Having access to dependable and prompt medical transportation services is essential in urgent situations like sudden illness or accidents. Our air ambulance services in Gopalganj stand out as an essential lifeline in such situations.
About Gopalganj:
Bihar, an Indian state, has a district called Gopalganj. It is located in the northern part of Bihar and is known for its agricultural activities. The district headquarters of Gopalganj is also named Gopalganj.
Air rescuers is the best option you can choose to get effective and reliable medical transportation facilities in the city.
Why choose Air Rescuers?
Easily accessible in every location
Low-priced air ambulance services with Intensive medical care
The patient will receive pre-hospital care and treatment from doctors who are highly certified and skilled.
Adaptive emergency and non-emergency medical equipment based on the patient's situation
Bed-to-bed transfers from unintentional locations to the hospital of choice
High-Quality Ambulance Services in Gopalganj
Air rescuers provide high-quality emergency and non-emergency air ambulance services in Gopalganj at a low cost.
Facilities provided by us:
Timely medical care and pre-hospital treatment
Quick and effective Response
Affordable and Comfortable Ride for the patient
Latest and Advanced emergency medical equipment
24 Years of experience
Saved more than 10,000 patients
Available in remote areas
Attentive and Responsible Staff
Knowledgeable and skilled doctors
Contact us at any time 24/7
Emergency medical treatment
Life-saving Medical Transportation facilities
We are the top ambulance service provider in Gopalganj, and we offer both charter and commercial air ambulance services for seriously injured patients all over the world. Patients who use Air Rescuers' emergency medical transfer service can also access life-saving supplies like –
Suction Device
Blood transfusion equipment
Cardiac Monitor
stretcher bed for patients
Syringe Infusion Pump
Oxygen Cylinders
Defibrillator
Beta-Blockers
Ventilator
Pacemaker
Nebulizer Machine
Contact us at any time, from anywhere, to obtain exceptionally efficient and pleasant medical transportation services.
You May also like :
Contact to for more details 24*7 we help you call now:+91 9870001118