Air Ambulance Services in Addis Ababa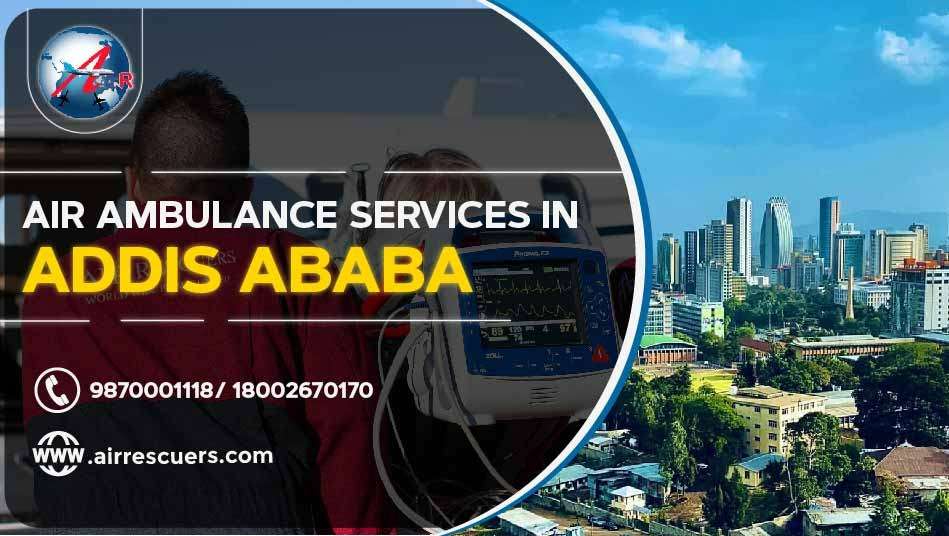 Air Ambulance Services In Addis Ababa – Air Rescuers
In Addis Ababa, Air Rescuers provides excellent air ambulance services along with complete medical care and treatment. Our paramedical staff and highly qualified doctors are constantly available to help patients.
The easiest option for patients to get from one location to another and receive appropriate medical care is by air ambulance. We always treat our patients like members of our family, which is why we offer all the cutting-edge medical transportation services at a reasonable price.
We have more than 24 years of experience handling patients in emergency situations, and our medical staff is constantly working to provide prompt and effective medical care throughout the entire journey.
About Addis Ababa:
The capital and largest city of Ethiopia, a nation in the Horn of Africa, is Addis Ababa. Ethiopia's national language, Amharic, has the meaning "New Flower" when the name "Addis Ababa" is spoken. It is located in the center of the nation and acts as the center of politics, culture, and commerce.
Addis Ababa is served by Bole International Airport, which connects the city to various international destinations. The city also has a network of roads, bus services, and a light rail system, making it relatively accessible.
Without encountering any obstacles, air rescuers assist patients in moving from one site to another. We want every patient to have access to cutting-edge medical care, thus our main goal is to provide dependable, inexpensive ambulance services wherever in the world.
Affordable and Rapid Air Ambulance services
Our air ambulances can respond to medical emergencies quickly, drastically reducing response times, which can be important in situations where lives are in danger. They can reach highways, accident scenes, or difficult-to-reach places more quickly than other service providers, which could save lives.
Facilities for speedy and efficient medical transportation
We are always accessible 24/7
Easily reachable in inaccessible areas
Provide specialized medical care during transit, such as critical care, neonatal care, and trauma care.
Modern, cutting-edge medical technology to deliver full medical care
A caring and attentive medical staff that assists patients
Worldwide medical transportation services that are reasonably priced and dependable
For people who need to be transferred to a specialist facility or who need immediate medical attention, we provide quick and safe ambulance services
Air Rescuers is currently providing the best air ambulance services in Addis Ababa as a result of our vast expertise and increasing competence in managing patient emergencies. If you need dependable and pleasant medical transportation services in any location, you can get in contact with us right away and without having to wait very long.
High-Quality Ambulance Services in Addis Ababa
Air Rescuers is the greatest option you can choose to get high-quality ambulance services with intensive medical treatment and care.
We provide advanced medical technology, experienced medical professionals, and a strong dedication to patient care, these services ensure swift and secure transportation for critically ill or injured individuals. In critical situations, the availability of these exceptional air ambulance services can make a significant difference, providing life-saving support when it matters most.
You will get prompt medical attention and care
Highly trained and qualified medical professionals to assist patient
Easily reachable in every location
During the aeromedical evacuation, you will get all necessary emergency and non-emergency medical supplies
Access to both domestic and international medical evacuation
We offer reliable and inexpensive medical transportation services worldwide.
To receive incredibly effective and comfortable air ambulance services in Addis Ababa, get in touch with us at any time, from anywhere.
Life Support Technology And Medical Emergency Transport Service
Air Rescuers provides the most reliable and comfortable medical transportation services and has all the necessary emergency and non-emergency medical supplies to help patients the entire voyage.
Medical equipment provided by us:
Suction Device
Blood transfusion equipment
Cardiac Monitor
stretcher bed for patients
Syringe Infusion Pump
Oxygen Cylinders
Defibrillator
Beta-Blockers
Ventilator
Pacemaker
Nebulizer Machine
Our top-notch ambulance services, which are designed to make it easy for patients to move between locations, include intense care and treatment. We provide dependable and secure medical transportation service in Addis Ababa at reasonable prices. The patient is totally in the care of our compassionate and skilled medical staff throughout the medical evacuation.
How can air ambulance services be scheduled?
To ensure a speedy and effective transfer of a patient from one location to another, a number of steps are involved in setting up an air ambulance service. The following provides a broad outline for scheduling air ambulance services:
Identifying the Medical Need
Make contact with the provider of the air ambulance
Provide the patient's details
Determine the destination and the receiving facility
Follow-up
Air rescuers offer first-rate air ambulance services in Addis Ababa with comprehensive medical care and treatment. Our highly trained doctors and paramedical team are always there to assist patients.
Contact us at any time to receive the top-notch air ambulance services in Addis Ababa.