Air Ambulance Services in Bhopal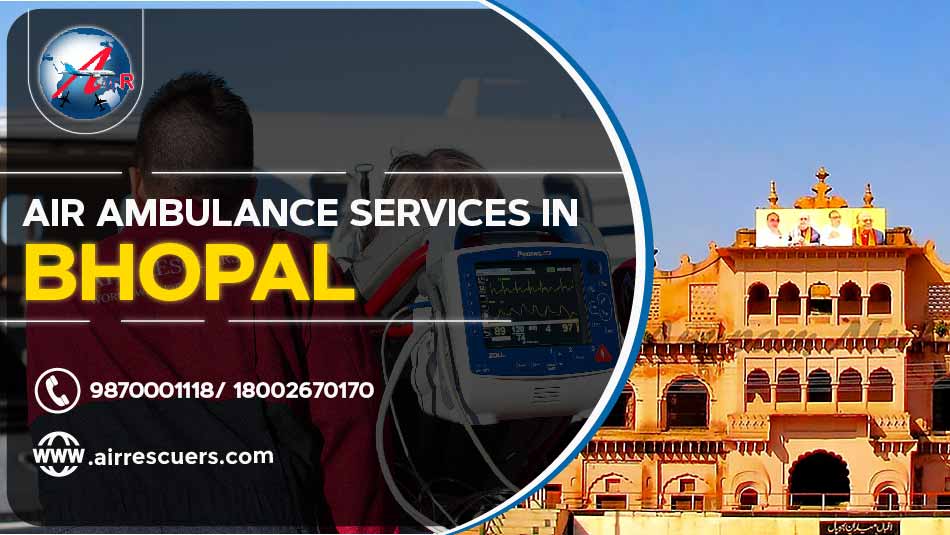 Air Ambulance Services In Bhopal – Air Rescuers
Bhopal, the capital of Madhya Pradesh, is also known as the city of lakes. Bhopal is one of the busiest cities. But when it comes to medical emergencies, Bhopal faces issues of frequent transportation. Due to busy roads, ambulances are not effective. There is a need for air ambulance services when it comes to frequent transportation. India's best air ambulance service provider and air rescuers are now providing service in Bhopal.
What is the mission of air rescuers?
 Air rescuers are not just air ambulance providers; they are life savers. Air rescuers have only one mission: to help and save the lives of patients. The medical team of air rescuers is dedicated, professional, and experienced. They tirelessly work to transport patients to the best medical facilities.
Why is the air ambulance a ray of hope?
In busy cities like Bhopal, it's challenging to get the best medical treatment services in bhopal at times. Air Rescuers has emerged as a ray of hope. Whether it's providing urgent transportation for accident victims, transferring critically ill patients, or even helping with organ transplants, air rescuers play an indispensable role in saving lives.
Why are air rescuers the best air ambulance providers?
When it is an emergency, air rescuers provide a rapid response. They airlift patients from remote areas to destinations where there will be the best medical care. They ensure a comfortable and safe journey for their patients. Highly trained and experienced air rescuers are able to take care of critical patients. Air rescuers have wide geographical coverage. They provide service to every corner of the world. Their service is available 24/7, 365 days a year.
Frequently asked questions
Q1: How much does an air ambulance service cost?
A1: Depending on variables including distance, the need for medical equipment, and the type of aircraft used, the price of air ambulance services can vary significantly.
Q2: Are air ambulances safe?
A2: Licencing and certified businesses with qualified medical staff run air ambulance services. To protect the safety of both patients and crew, they must adhere to strict safety requirements.
Q3: Do air ambulance services operate 24/7?
A3: Yes, Air Rescuers offers 24/7 medical transportation facilities in order to offer round-the-clock emergency medical services.
Q4: How do I request an air ambulance?
A4: Getting air ambulance services from air rescuers is simple and hassle-free. Simply give us a call at any time, from anywhere.
You May also like :
Contact to for more details 24*7 we help you call now:+91 9870001118